Rising thefts in homes, cemeteries and mausoleums are sweeping across the nation. Brass, bronze and even marble cremation urns are being taken by the hundreds. The metals can be scrapped for cash and marble pieces can be resold. Though never close to the pain of losing someone, losing them again due to theft or damage is unnecessary pain that should be avoided at all cost. Don't sacrifice beauty to protect the memorial of your loved ones. Choosing a ForeverSafe™ urn means choosing to protect against theft, flooding and loss from deterioration while still having a beautiful piece for memorial.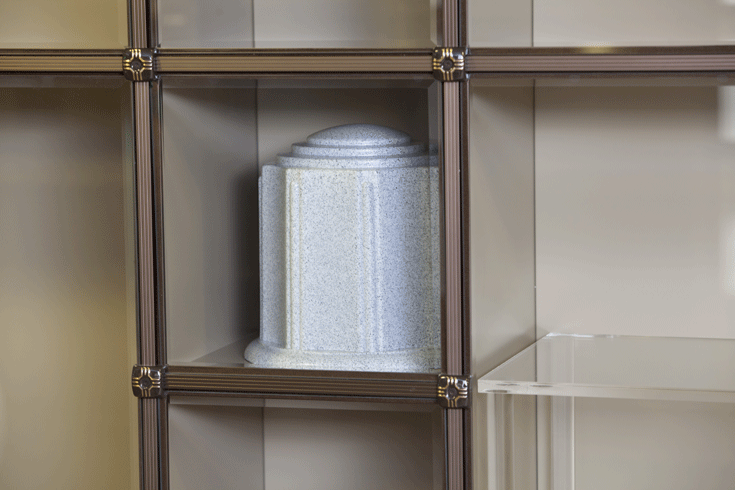 With rising burial costs, increasing prices for memorials and urns have impacted many all across. While burial vaults can be an added hefty additional expense, the ForeverSafe™ Burial Urn does not require the additional vault. The ForeverSafe™ Burial Urn offers water-tight protection with an annodized aluminum plate and a neoprene gasket. Protect your loved one, Forever with with ForeverSafe™.
Burial Urns

One of the most attacked items in cemeteries across the nation are memorial vases. The remembrances we leave keep the spirit of our loved ones alive. The marker of a gravesite is sacred ground and a place many memories are shared. The loss of a memorial vase can be devastating for a family. It is unnecessary and venerable to use metals as memorial vases. Robbers are taking them by the hundreds from cemeteries in almost every city. The ForeverSafe™ Cemetery Vase is a beautiful alternative to susceptible metal counterparts. Many people have to replace vases in cemeteries or explain the loss of a loved one's memorial urn. Forever Safe Vases are not damaged by rain and sunlight and will provide years of beauty. No need to worry about damage due to freezing water as the durable polyethylene construction is able to weather the elements with ease. Get the look and lifespan of granite and metal while drastically lowering the interest of thieves.
Cemetery Vases

For more information on the Granger Plastics Cemetery Vases, please visit the link below:
Cemetery Vases
The design of ForeverSafe™ offers products that reflect quality and style while unaffected by weather and water changes. All ForeverSafe™ Burial urns are made out of certified prime virgin Polyethylene, offering unsurpassed durability. Get the look and lifespan of granite and metal while drastically lowering the cost and interest of thieves. When protecting something valuable choose a product designed to do that. Don't worry about losing your loved one again. Rest assured…. ForeverSafe™ is protecting them.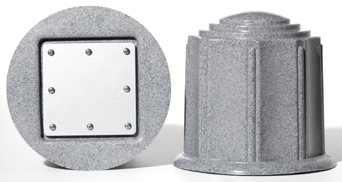 Water Tight Burial Urn Features
May be used to for housing cremains and for burial without additional vault
Polyethylene material deters burial urn from theft unlike metal counterparts
Includes neoprene gasket, anodized aluminum plate and stainless steel screws
Waterproof
Urn volume of 231 cubic inches for cremains
Water Tight Burial Urn Dimensions
10" (height) x 10" (diameter)- Round Burial Urn
8" (height) x 11" (width) x 8" (depth)- Rectangle Burial Urn