ForeverSafe™ Burial Urns
The round Burial Urn, is beautifully designed to add sophisticated styling to a simple shape. Fine design offers a beautiful combination burial urn and vault that can be buried into the ground without an additional container. Beautiful when displayed as a memorial, fine granite and metallic finishes offer a fine quality burial urn without appealing to thieves. The true value is not in the material on the outside, but what's on the inside. This should be protected at all costs. ForeverSafe™ burial urns, is the best way to add protection.
ForeverSafe™ Round Burial Urns have a glossy finish emphasizing its classic design. Speaking to the quality of days passed, it was never so easy to choose protection because with ForeverSafe™ Burial Urns, you don't have to sacrifice beauty for quality. The granite effects give a heavy stone look while the metallic effects blend in with metal counterparts. The choice is always a personal one.
All ForeverSafe™ burial urns are made out of certified prime virgin polyethylene, offering unsurpassed durability. The design of ForeverSafe™ burial urns, offers products that reflect quality and style while impervious to weather and water changes. Cold and damp conditions do not affect ForeverSafe™ burial urns and cemetery vases. Get the look and lifespan of granite and metal while drastically lowering the interest of thieves. When protecting something valuable choose a product designed to do that. Don't worry about losing your loved one again. Rest assured…ForeverSafe™ is protecting them.
Round Burial Urn Features
May be used to for housing cremains and for burial without additional vault
Polyethylene material deters burial urn from theft unlike metal counterparts
Includes neoprene gasket, anodized aluminum plate and stainless steel screws
Waterproof
Urn volume of 231 cubic inches for cremains
Round Burial Urn Dimensions
10" (height) x 10" (diameter)
Round Burial Urn Image Gallery
| | | | |
| --- | --- | --- | --- |
| White Granite Urn & Vase Canister Set | Terra Cotta Granite Urn & Vase Set | Mahogany Urn & Vase Set | Black Granite Urn & Vase Set |
| Grey Granite Urn & Vase Set | Brown Granite Urn & Vase Set | Antiqued Urn & Vase Set | Bronze Urn & Vase Set |
Round Burial Urn Information
For more information on the ForeverSafe™ Round Burial Urns: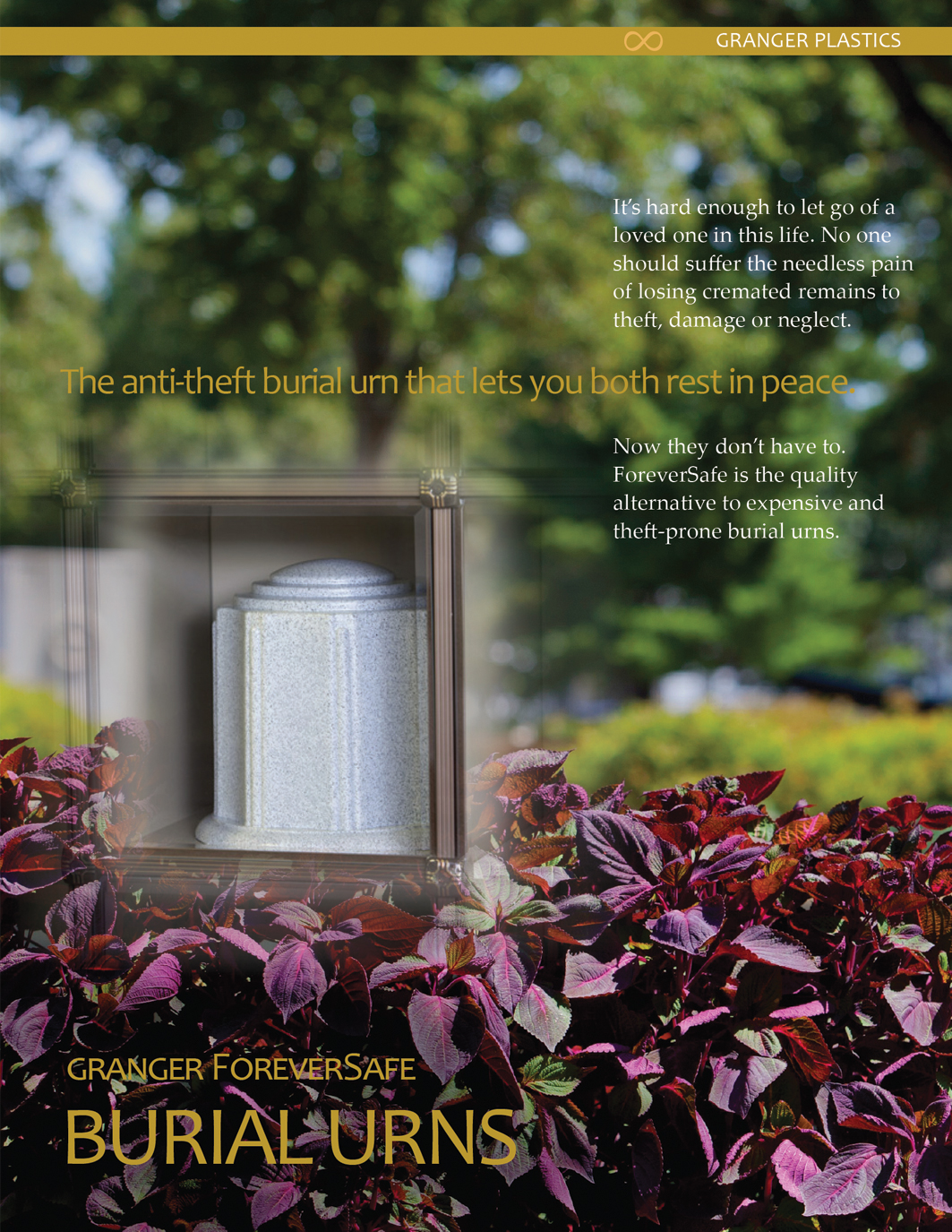 Burial Urns
Burial Urns Water Tight Testing
Burial Urns Weight Loading Test